Stainless steel market update May'17- Stainless prices move down on lower surcharges

During the month of April 2017, stainless steel prices dropped in all the three major markets, America, Europe and China. To begin with, China's market has faced increased competition from lower-priced Japanese exports with the $100/ton premium saved on exports remaining attractive. In Europe, the yearly market slowdown seems to have already begun as prices have dropped by between €100-150/ton in June, mainly due to a fall in alloy surcharges. Though generally strong, the US market has been plagued with slightly more uncertainty about the future in recent months due to the expected rise in interest rates in June and the continued fall of surcharges on raw materials in June. Unfortunately for millers in all the three markets, demand has also fallen with the increased uncertainty in prices as buyers hold out for a further price decrease. Here is a more in-depth look at how the three markets performed over April 2017.

Asian market – Falling stocks as producers cut back on production.
Over May 2017, Asian stainless steel prices fell rapidly. Cold-rolled (CR) 304 2mm in China's milling hub, Wuxi fell by more than $60/ton, month-on-month to settle at $1,631/ton at the end of May. East Asian imports also fell by $90/ton over the period to sell at $1815/ton while stainless steel from Japan fell by $100/ton during this period too. Implied conversion margins for (CR) 430 2 mm coil in China rallied partially in early May to settle at an average of $693/ton after hitting a low of $644/ton and an average of $662/ton in May. As the chart shows, (fig 1) the CR430 spot price fell to settle at $992/ton in May. Ferritic prices remained under intense pressure and they continued to recede in Chinese spot markets. By the end of May, they had fallen to $964 (excluding sales tax).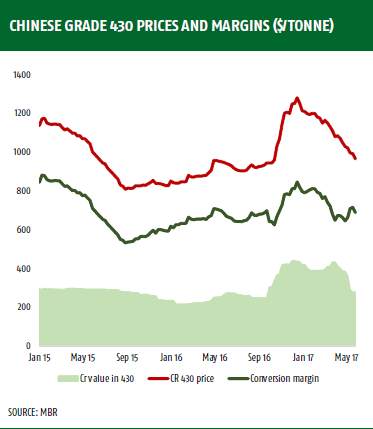 In China, this price fall has been aided by raw material development. Locally sourced high carbon ferrochrome (charge chrome) prices (See fig 2) slipped to just below $276/ton compared to $400 earlier in May. Unlike the free-fall trends in ferritic pricing, chrome prices have remained steady at an average $400/ton price over the period. The rapid price fall in mid-April and May has understandably shaken the market fundamentals and led to a downward revision in short-run price forecasts. Ferric production, however, remained strong in the first quarter and rose by over 17% year-on-year ensuring the recovery in production was maintained consecutively for five quarters.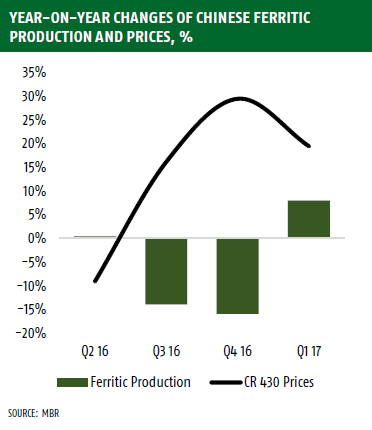 This growth was to a large extent due to a demand surge over the period. As it slowed down in the first quarter, there was increased pressure on ferritic margins which was reflected in the surplus production witnessed putting further pressure on the price.
European market: Expect Further Price Falls in Q3
The yearly market slowdown began early this year. Recent price falls in nickel prices have translated to a price fall on nickel-containing stainless steel grades; the most common in Europe. However, large volume buyers are still not increasing their demand as they expect the price to fall further. These expectations are indeed rightly placed as spot market chrome prices have experienced huge price falls recently raising expectations of further price contractions in Q3. The previous price highs experienced during the top half of 2017 are set to abruptly crash in the short run before stabilizing quickly to a new level by end of Q3.


The short-term outlook for the stainless steel market in Europe is not promising as both alloy surcharges and base prices continue to fall. Millers have continued to accumulate stock since Q1 as large volume buyers are only buying minimal amounts to avoid having to mark down the value from their inventories due to further price falls. With the extra headache of increased imports, particularly from China and at competitive prices, European manufacturers have been forced to respond by cutting their base prices as follows:

| Product | Month on Month Price Fall | New Average Price |
| --- | --- | --- |
| Grade 304 material | €25/ton | €1,130/ton |
| Grade 316 material | €45/ton | €1,430/ton |
Looking forward, the third quarter is in for further price falls. The negative price driver, however, won't be nickel, but rather – the more traditional culprit –Chrome prices and their expected sharp downward fall. This fall is almost 100% certain as ferrochrome prices have collapsed over the past months (see fig 2) in the product's most important spot market – China – where prices have fallen by some 25% since May. Consequently, these price shifts are expected to eventually impact ferrochrome contact prices in Europe as EU and US steelmakers adjust their alloy surcharges downwards.
USA market: Lower prices due to base price resistance and lower surcharges
With the Federal Reserve expected to step up interest rates in June and the high probability of another decline come July, the generally strong US stainless steel market has experienced a bit of uncertainty. Buyers have become a bit more cautious with their purchases despite the American economy remaining steady as they look out to take advantage of any price fall.
Attention is largely set upon the steel Section 232 investigation which, depending on how big a net it casts, could have a positive impact on the market; for produces at least. For now, flat roll producers have to settle for only part of the 5-7% price bump they were hoping would take on effect May 1st. increased competitiveness in the market, especially between Outokumpu and North American Stainless; the market leader, continue to hamper any price increase.
Mills do sometimes raise base prices when surcharges fall. They are however expected to remain flat this year unless there's sudden big surge in demand or an equally big decline in supply. This is despite the US manufacturing sector continuing to experience moderate growth and the Institute of Supply Management predicting growth of 4.4% in the sector's revenue this year, and a further 4.1% growth in 2018.
Surcharges for various steel ferritic are expected to remain fairly stable over July. However, all other major raw material surcharges have fallen and the changes are yet to reflect in June surcharges. Chrome prices have also been on a downward trend, as has been nickel (down 6.6%), Molybdenum (down 5.4%).
The short-term outlook for producers is rather bleak, as prices are expected to continue falling as competition grows more intense and the prices for raw materials continues to plummet too. Q3 could, however, come with good tidings for producers. As producers continue to cut back on production, to tackle reduced demand it is expected that kickstarts the drive to tackle price dives in the sector.