Stainless steel raw material tracker – Apr 2017
Chrome highlights
Ferrochrome prices fall steeply, further falls anticipated
Ferrochrome had a good run in March but as expected, the prices kept falling even more sharply. This is due to China's reduced supply of raw materials. Spot market prices for Ferrochrome fell this month. They are placed at RMB 9,400/tonne for materials with high carbon content. This is the level they were at in February. This means buyers Pay $1.05/ lb Cr. Import prices have also gone down by 2 cents per pound compared to March prices. These price reductions make the early rally that the stainless steel industry saw at the beginning of the year seem like a fluke. It was expected that prices will keep falling if the price of Chrome ore keeps falling. They held up well over the last two months. The reduction in prices for Ferrochrome has also been affected by the market consolidation and the opening of new mines in countries like Turkey. This could be the start of a serious pullback of chrome ore prices. In fact, in one month the price has managed to pull back to the 2011 level when the Turkish Chrome ore and the South African UG2 ore were falling at a rate of up to $30 per month. Right now Chrome ore prices are still regarded to be too high except for the South African UG2 ore is valued at about $360/tonne CIF.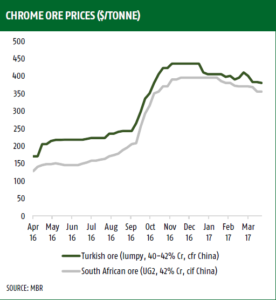 With the South African mining and ferrochrome smelter company, Afarak resuming their open-cast mining operation, the prices are expected to fall even further. The mining company has also indicated that it plans on expanding operation to an underground mining operation. This is good for the company as it means they will be more self-sufficient and will not have to buy ore from elsewhere. This will also increase the amount of material available on the open market.
Molybdenum highlights
Over the last weeks, the demand for Molybdenum has waned. There are European companies that have orders they can't move. They have resorted to dropping the prices significantly since Easter but no one is in a particular rush to buy. Material from Asia is priced around $19/kg but European companies should hope for a $21/kg in order to recoup their short positions.
Nickel highlights
Nickel prices retreated but rebound expected
The price of Nickel still remains weak compared to last month. The price of Nickel seems to have been stunted by the market's attention on bearish themes. The exchange inventories have remained stable with LME and SHFE having a combined stock of 463,5667 tons at the beginning of May. This number is down by only 0.5%. Meanwhile, Indonesia and the Philippines have significantly weighed in on the market. The Asian company Antam has secured approvals from the government to export 2.7m tons of its low-grade ore for the remainder of the year. It is significantly lower than what the company had asked for but it is a start that has been welcomed by the industry. There is some hope that the government will allow for more.

There are some reasons to be positive too
Global macro indicators suggest that there is an upside that's looming in advanced and emerging economies. There are physical signs in the market too. For instance, China has seen premiums increasing by 26% to $180/tonne to date. The EU has had a 38% surge since the beginning of the year and briquettes have climbed to $189 – $200/ ton. In the US, premiums have moved by 15% to date. This could indicate a likely increase in demand in the next coming months.
The latest INSG data shows that the global market deficit of 1,100 tons (reported in January) has expanded to 4,400 tons in February. This is a significant swing, but not nearly as the 9,400 surpluses that was reported for the same period in 2016. This upswing follows the significant 12.3% surge in refined nickel usage, which is outstripping production, which sits at 7.2%.
Role of negative spectaculation
Nickel is still being speculated under bearish themes. According to the London Metal Exchange: commitment of traders (LME COTR), Nickel has a lightest net long fund of all time. This could result in a short-covering rally. The price could suddenly shoot up if the right catalyst is thrown into the market. Analysts and economists will be looking at stocks very closely.
Scrap highlights
European demand for scrap is fading away
Whilst it may feel that China holds the rest of the world to ransom other markets affect what happens to the global price of scrap metal. case in point is Europe where the price of scrap metal has begun to recede in response to the low demand. Over the last weeks, the discount on scrap has been phenomenally different compared to other raw materials. Researchers have been forecasting this for a couple of months now.

This has forced scrap metal merchants to be more competitive in instigating a price war. Discounts on Scrap metal has increased to 24%, 2 percent higher than last month's prices. Since the market in Europe isn't expected to gain momentum, especially with summer looming means that the price will not suddenly go up. The price will also be affected by the amount of scrap that merchants have yet to sell off the water. However, this low price bubble will end at some point, it is only a matter of time and having all the right elements aligning perfectly.